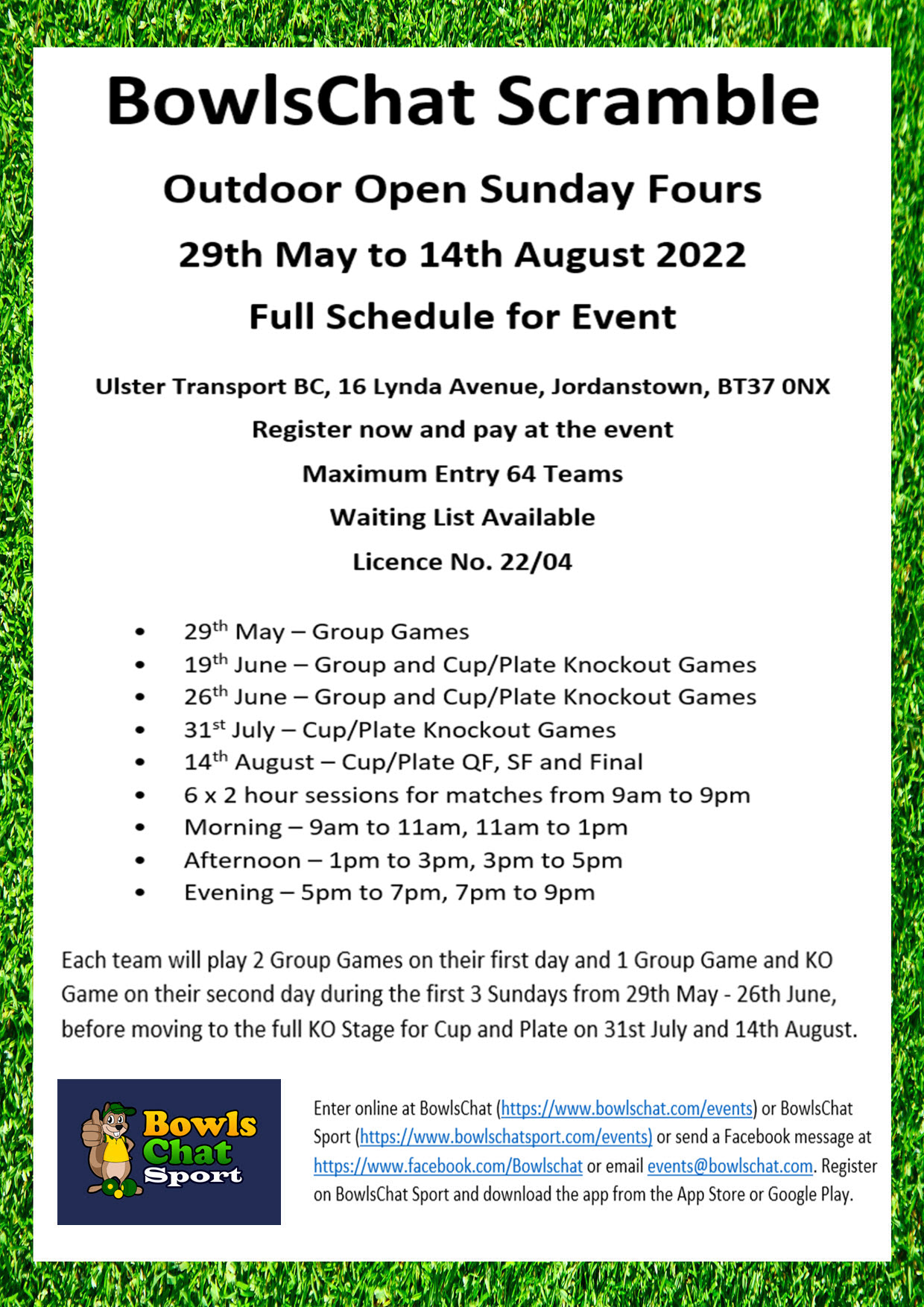 To all Club Secs of clubs affiliated to the IBA/IWBA (Assoc Secs bcc copied in this email, others in a separate email).
The BowlsChat Scramble Outdoor Open Sunday Fours will take place at Ulster Transport Bowling Club between 29th May and 14th August 2022.  It is an IBA and IWBA Licensed Event (Licence No. 22/04) and open to members of all affiliated clubs, with a maximum of 64 entries in 16 groups competing for a Prize Pool of £1000.  Teams may be all Men, all Ladies or Mixed with three group games and 1 or more Knockout game guaranteed for each team.  The green and facilities at Ulster Transport BC are excellent and Bar/Catering will be available during the event (9am – 9pm each Sunday with 6 x 2 hour sessions for matches).
Sunday Schedule
29th May – Group Matches
19th June – Group Matches
26th June – Group and KO Matches (Cup and Plate)
31st July – KO Matches (Cup and Plate)
14th August – KO matches (Cup and Plate)
A N Other is acceptable for player information when entry is made as long as any missing details are received before the draw at 7pm on Tuesday 24th May 2022.  The entry fee is £10 per player, payable at the venue before their first match.
There will be a livestream of selected matches during the event.
We hope everyone enjoys the first Scramble event of the 2022 outdoor season at Ulster Transport BC and details of other events will be announced shortly.
Richard Nash
Managing Partner
BowlsChat