Guide to this website
If you are having problems finding your way around this website hopefully the guide below will help you find what you are looking for.
IRISH LAWN BOWLS
Welcome to the official site of the Bowling League of Ireland and the Ladies Bowling League of Ireland.
Irish Lawn Bowls is the combination of the Bowling League of Ireland (BLI) and the Ladies Bowling League of Ireland (LBLI), the governing body for Lawn Bowls in the Republic of Ireland. The game is fast growing with clubs now in the following counties: Cork, Dublin, Kildare, Limerick, Meath, Offaly, Sligo, Waterford, and Wicklow. There are however many other counties where clubs are in the process of being formed.
Lawn bowls is a sport for all ages with competitors aged from under 10 to almost 100 currently playing in BLI/LBLI affiliated clubs. 
If you are new to the sport of bowls and want to find out how to play the game have a look at the following link which will help you find out how to play.
Map of Bowling Clubs within the BLI / LBLI 
Click on the "view larger map" button at the top right of picture for more details.  Note the details are what the individual club has put on Google and may not always be a 100% correct.  
A full list of BLI Member clubs together with their website details can be found at
For club addresses and Secretary Details see
Welcome to the BLI / LBLI Blog
Here will be posted various notice that we want to bring to your attention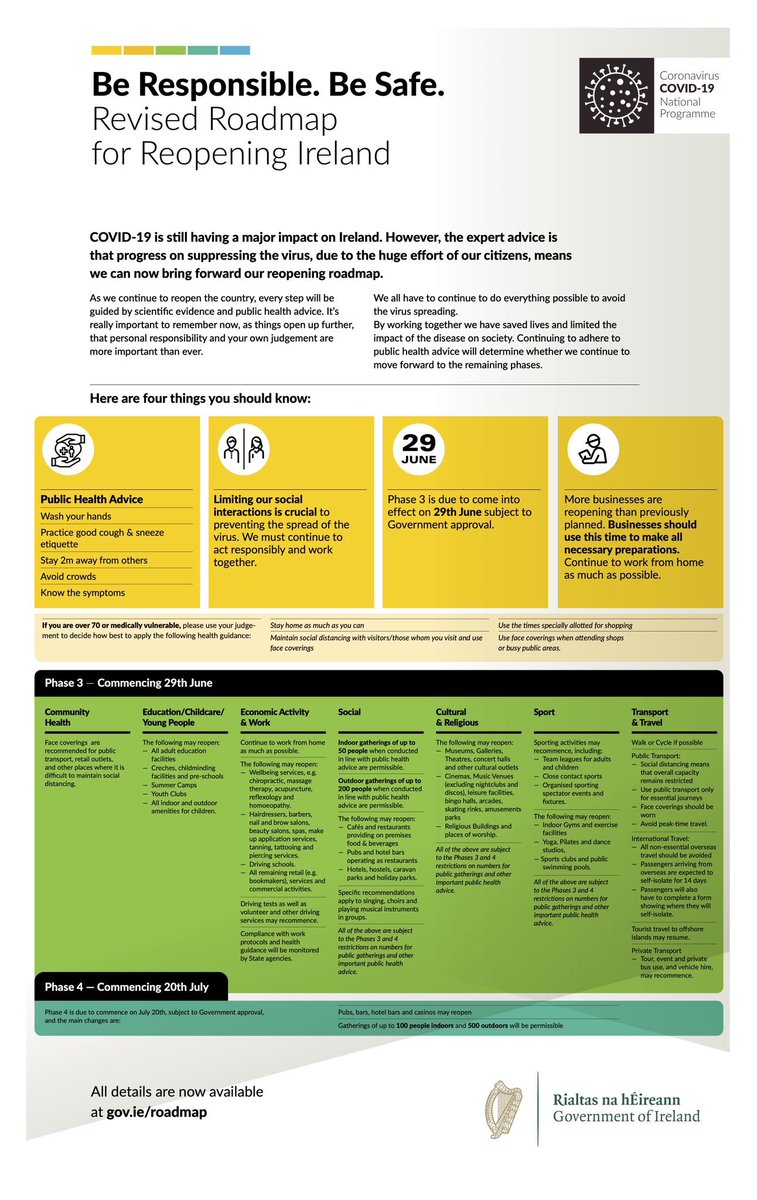 Issued by the Government Press Office
19 June 2020
Government approves revised Roadmap for Reopening Society and Business
Places of worship, gyms, cinemas, leisure facilities & hairdressers can open from June 29th
 Announcement provides businesses with time to prepare
The Government has today (Friday) approved a revised Roadmap for Reopening Society and Business, with most activity now being moved to Phase 3, beginning on Monday June 29th. The acceleration of the Roadmap has been made possible thanks to the progress made by the Irish people in supressing the virus and keeping transmission levels low. The announcement is being made today to give businesses time to plan ahead of June 29th.
As our country is reopened in a controlled, measured way personal responsibility will be more important than ever. We must maintain physical distancing to the greatest extent possible, for as much time as possible, to prevent the spread of infection.  We are asking everyone to consider four things before making a decision about doing something and at all times to evaluate the risk:
Distance
Activity
Time
Environment
The revised Phase 3 includes the reopening of churches and places of worship, gyms, cinemas, leisure facilities, hairdressers and barber shops. All sporting activities, including close contact sports, can recommence including team leagues for adults and children. However, these sports will take place with a very limited number of spectators.
Mass gatherings will be limited to 50 people indoors and 200 people outdoors.  If the presence of the virus remains low, this will rise to 100 people indoors and 500 people outdoors in Phase 4. 
Members of the public are continuing to be advised to use a face covering (i.e. a non-medical face covering) as an additional hygiene measure, when using busy public transport or when in enclosed indoor public areas such as retail outlets. A new communications campaign launched this week encourages more people to wear face coverings in these circumstances, and when you are visiting people vulnerable to Covid 19.
Speaking this evening the Taoiseach said:
"The virus hasn't gone away.  We are all still susceptible to it. Certain types of activity are more risky than others, so we must lower that risk by taking appropriate steps, wearing face coverings, maintaining physical distancing, washing our hands and so on. 
"Taking personal responsibility means not entering a place if you see it is packed.  It means leaving somewhere, even if you are having a good time, if you have been there beyond a certain point.  It means exercising judgement and self-control for your own sake as well as the collective good.
"This re-phasing of the Roadmap has been made possible by the solidarity of the Irish people and the sacrifices made by so many over the past few months in suppressing the virus.  Instead of being forced back, we have been able to push the spread of the virus back and advance forward.
"We will need to continue to act responsibility, understand that we have no treatment or vaccine for this virus and until such time as we do we will be living a different type of life. But a life where we can again do so many things that are important to us and our families. We have been through a shared experience and as we move forward, we will never forget what we have lost and learned."