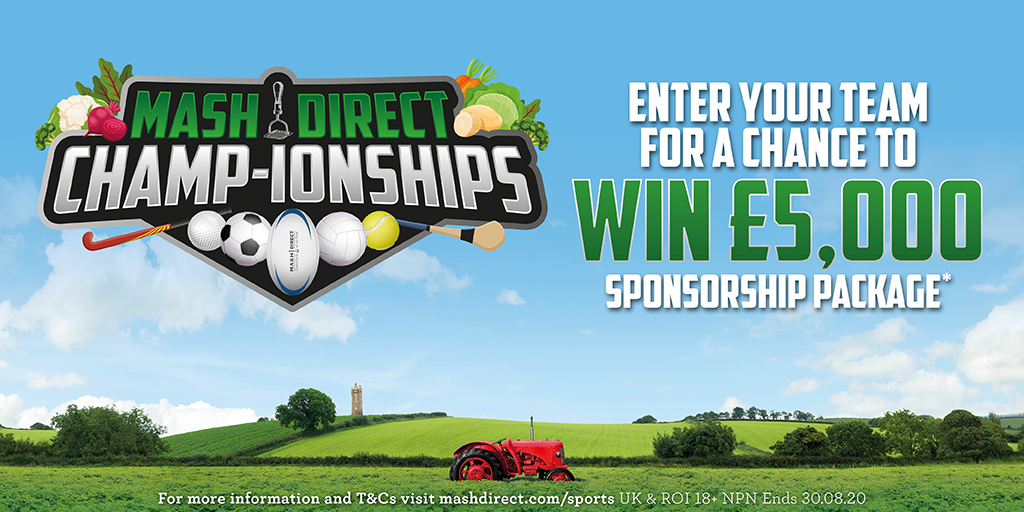 The following email was received from the IBA Secretary on the 29th July.
Dear Governing Body,
I would like to take this opportunity to let you know about a campaign Mash Direct have launched to support the sports sector following COVID-19.
Mash Direct are calling sports clubs, teams and associations throughout Ireland and the UK to submit an application for the chance to win a £5,000/€5,400 sponsorship package to bring teams together following the impact of COVID-19.
Mash Direct, the award-winning 'field to fork' side dish brand, is pleased to announce the launch of their new sports campaign, 'The Mash Direct Championships' on 29th July 2020.  This campaign will give teams across the country the opportunity to win the top prize of a £5,000 /€5,400 sponsorship package which includes a Mash Direct branded playing kit for the forthcoming season. 
Covid19 has seen the temporary closure of many sports teams and prevented people enjoying certain fitness activities.  Mash Direct is launching this campaign to help UK and ROI sports teams to recover and is part of the brand's overall commitment to support health and wellbeing. 
Mash Direct have paused advertising on Facebook until they have taken further action against racism and hate speech and are instead putting these funds to better use by supporting local sectors who have been significantly impacted by the pandemic.  Following hot on the heels of their Dine In to Dine Out Campaign to support the hospitality sector, the Mash Direct Championships support the sports community with a sponsorship package and reconnect teams together.
In order to enter the 'Mash Direct Championships', teams will be required to complete an application form (
www.mashdirect.com/sports
), detailing why they are the most suitable team to win the £5,000/€5,400 sponsorship package.  Teams will then create a short video showcasing their skills and incorporating Mash Direct into their training sessions. 
Applications will be judged by a variety of sporting stars and personalities who will decide on who they think is most deserving of the prize.
Please find attached a press release, terms and conditions, images to promote the campaign. We would be grateful if you could share with members of your sports clubs and team and promote this on social to let sports teams know they can apply for the chance to win this sponsorship package.  
Prize details and eligibility are outlined in the attached terms and conditions.
If you require any further details, please do not hesitate to contact me directly via E-Mail: 
clare@mashdirect.com
 or Mobile: 07917333996.
Kind Regards
Clare Forster
Clare Forster | Head of Marketing
Mobile: +44 7917 333 996